Toyota Certified Collision Center in New Castle, DE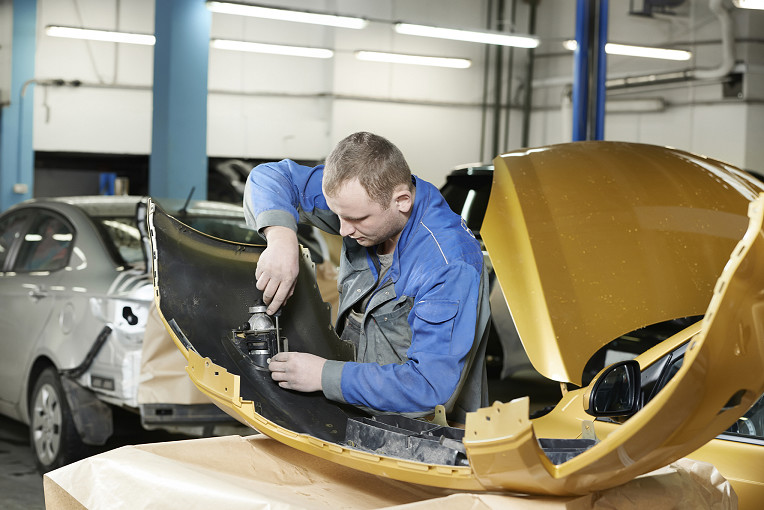 From fixing minor cosmetic damage to serious harm caused by an accident, your Toyota vehicle should be repaired with the highest degree of care and attention. Thankfully, you can feel fully confident when you place your car, truck, or SUV in the hands of the technicians in our certified Collision Center. We only use the highest-quality components and equipment, so you can trust that we'll get the job done. Schedule an appointment today!
Why Use a Toyota Certified Collision Center?
Since many individuals don't realize the value in having their ride repaired at a certified Collision Center, we're here to bring you up to speed. To begin, each and every technician that works on your vehicle has been certified by Toyota, meaning that they know how to treat your model right. Furthermore, thanks to the hands-on training courses on the latest procedures, we're always on the cutting edge. In addition to our expert staff, we also only use genuine Toyota parts, which maintains your warranty. Finally, our state-of-the-art equipment makes us better able to tackle bigger jobs that others might have to turn down.
Online Resources
We understand that getting into an accident is stressful enough, so we strive to make it as easy as possible to receive an estimate for the necessary repairs, reserve an appointment, and access additional resources. When you're on our website, simply navigate to the Service tab at the top and click on the link to our Toyota Certified Collision Center to read more about our capabilities. On this page, you'll notice a button labeled "Get an Estimate", as well as hyperlinks to our service and parts specials. At Price Toyota, we aim to take the guesswork out of automotive repair, so you don't have to stress.
Service Benefits
While you're here for your collision repair, we'll make sure that you're taken care of. If you'd prefer to wait on-site, we have a cozy customer lounge with free Wi-Fi and gourmet coffee, so you can browse the web and enjoy a warm beverage. Of course, if you have places to be, you can always hop onto the free local shuttle, which will get you around town and pick you up, enabling you to still complete your daily errands. Finally, if your repairs are expected to take a day or two, we'll make sure you get set up with a quality loaner vehicle!
Price Toyota is proud to have a Toyota certified Collision Center in New Castle, DE. We're prepared to tackle everything from small dents to damaged engine mounts, so feel free to put us to the test! We're confident that you'll be most satisfied with the results.
Testimonials
GOOGLE
6-30-2020
GOOGLE
6-23-2020
YELP
6-19-2020
GOOGLE
6-16-2020
GOOGLE
6-9-2020
GOOGLE
6-9-2020
GOOGLE
6-8-2020
GOOGLE
6-7-2020
GOOGLE
6-3-2020
CARGURUS
6-1-2020
GOOGLE
5-31-2020
YELP
5-31-2020
"Excellent experience"
DEALERRATER
5-31-2020
YELP
5-31-2020
GOOGLE
5-30-2020
GOOGLE
5-28-2020
GOOGLE
5-27-2020
GOOGLE
5-23-2020
GOOGLE
5-13-2020
YELP
5-5-2020
GOOGLE
4-24-2020
GOOGLE
4-9-2020
GOOGLE
4-8-2020
Read More